Dublin Fire Brigade Pipe Band Major Mark Toner reviews the band's recent activities.
You won't be surprised to hear that your band has been extremely busy since the previous issue of Firecall, sliding into the year's end and a well-deserved Christmas break after an extremely busy 2018.
The band finished off the summer months with a number of high profile engagements. A place at the final of the Fleadh Cheoil na hÉireann in Drogheda saw the band once again in the competition circle, taking a solid second place against a small number of similarly graded bands from County Down. Retired member Paul Shannon, one of the band's earliest members and tenor drummers, accepted the prize on behalf of the band. A good base to draw on and continue to improve, and the experience only adds to future performances.
Immediately after this the band were thrown head first into preparations for the now annual FESSEF celebrations, and once again led the DFB contingent in the march from Parnell Square to Dublin Castle. Our involvement in FESSEF didn't end there, as we were centre stage in the National Concert Hall for the Emergency Services concert, along with our colleagues from the Irish Prison Service and the National Ambulance Service pipe bands, for what was a magnificent concert.
As you know, the band is made up of volunteer members, however, this did not detract from the monumental amount of effort and practice required from the playing members, and of course support from our families and friends, in preparation for these high-profile events.
The long hours of preparation during the summer months for these events continued to pay dividends as once again the band were well received on the evening of DCC's Culture Night in City Hall, where we played to large gathering of locals and tourists alike.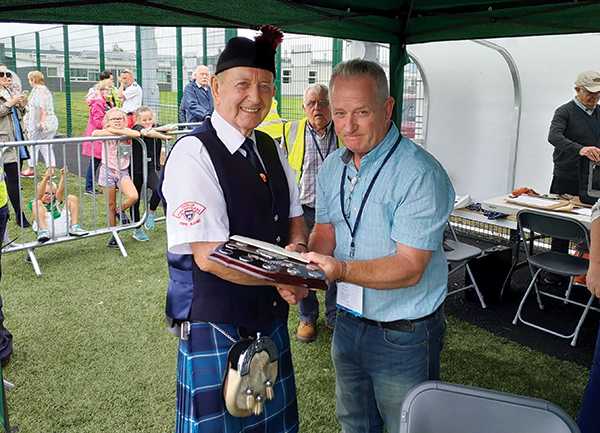 This was followed by a number of charity events the band were happy to be a part of. Elements from the band were also part of recent DFB sporting occasions when a piper and drummer led our GAA team onto the pitch in Croke Park in a friendly game against our NIFRS colleagues, and again when our rugby team recently played the Dáil Seanad team in Donnybrook stadium. Proud to help represent DFB on both occasions.
Requests we try extremely hard to honour are those from our own members and representative organisations. None more so than the biennial DFB Sports and Social club retirees function, this year held in the Castleknock Hotel and Country Club. The band were proud to perform for DFB's recently retired members at the reception on the evening, many of whom have been loyal supporters of the band over the years. Our own piping stalwart, Paul Byrne, was one of the recipients, and still managed to strike up a few tunes on the evening. Well done Paul, and we wish you a long and happy retirement from all in the band!
We finished off the year with the bands' AGM, whereupon the current executive of Chairman Paul Keyes, Secretary John McNally and Treasurer Stephen Pender were voted back into place, and a new appointment of Alan Corcoran to leading drummer was made.
So if you think you have what it takes to become a band member, why not come along to the OBI any Monday night from 1930hrs onwards and earn the right to wear the band's crest on your shoulder! Beginners are very welcome – and don't worry, musical ability is not necessary, you'll be thought and provided with eveything you need! Our door is never closed, so if you are a previous member and find yourself with a little more time than before, we'll be glad to have you back.
The band can be reached at any time through any band member or by email at dfbpbsec@gmail.com or via any of our social media pages. It's your band!