FF/P Ray McMonagle talks to Adam Hyland about DFB involvement in the dance craze raising spirits during lockdown.
One of the more uplifting sights of the most recent phase of the pandemic has been the Jerusalema dance challenge that has gone viral across the globe. Originally hitting our shores when the Swiss police challenged their Irish counterparts to match their efforts, gardaí took on the task with gusto and produced an eye-catching video that showcased their commitment to community spirit, but DFB members were more than keen to join in, and were part of a routine that was aired on the Late Late Show in February. Though suggestions had been made within the DFB about doing their own version, the TV appearance proved to be a perfect way to take part.
SPIRIT
"We had seen the Garda dance and it was certainly one of the best videos out there in terms of raising community spirits," says FF/P Ray McMonagle. "It really showed what they were about in terms of community, the place they fill in Ireland, and they put their own spin on it with the Irish dancing and the horses that were the star of the show.
"There were a few leaks on social media showing Gardai dancing on rooftops, so we sort of felt something was coming down the road, and we were almost braced for it. There were a lot of people suggesting that maybe we should do our own version and there was some interest in the job. I started to get a lot of calls and texts about it, but without anyone really coming forward themselves to volunteer to take part."
Management was approached and backing received, with the proviso that it must take place during volunteers' free time, as the rollout of the COVID-19 vaccine and general day to day duties obviously meant resources were needed elsewhere.
That request was made on 2 February, with Ray tasked with gathering members happy to take part and show off their moves, but coincidentally, the very next day RTE got in touch asking DFB to be part of a multi-agency version of the dance to appear on the Late Late Show that Friday. Time was of the essence.
"That invite forced our hand, and to be honest it got us out of a hole to some degree because it meant we didn't have to find enough people willing to take part to do our own version of the dance," Ray tells me. "News of the invite came through on the Wednesday afternoon, so there were lots of calls and texts and lots of 'I'd love to, but…' conversations, and in the end we did find five people who were happy to do it. We actually had a few more than that, but could only take five, and for some the time restrictions ruled them out. One or two jumped at the chance while some had to be gently persuaded. I was delighted with the uptake we finally did get because, at first, I thought it would be nearly impossible to get the numbers with such short notice, and I ended up having to practice myself the night before we got the volunteers on board, just in case.
"You might ask why I didn't put myself forward," he adds. "I did consider it, but I thought back to my recruit class when for a while I got slagged because I was all right hand, right foot – I had absolutely no coordination, so I didn't think I was up for it.
"By Wednesday night we had our group of participants – S/O Dave Connolly, and FF/Ps Alex Daly, Kevin Conroy, Nicola Sheil and Stephen Breen – but the routine was to be pre-recorded on the Thursday, so the volunteers didn't have much time to practice, to watch the YouTube videos and get the choreography down, but they managed it." There was an unexpected connection to DFB at RTE when it turned out the choreographer Stuart O'Connor, who also choreographed the Toy Show, was the son of the late Phibsborough D/O Seamus "Raff" O'Connor.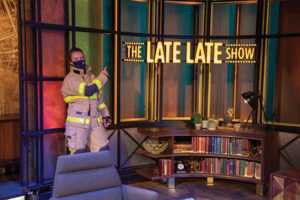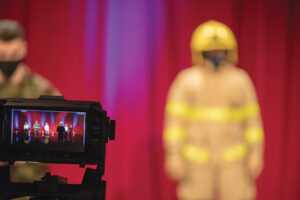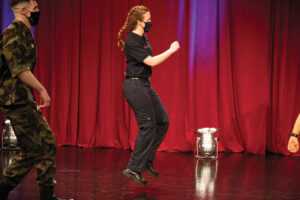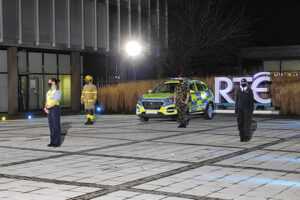 RECORDINGS
The first of four pre-recordings took place on Thursday 3 February at 6pm, with another filmed later that evening, with Alex, Kevin and Stephen taking part in the rooftop and plaza versions, while Friday saw a pre-recording at noon in the studio featuring Nicola, and another at 6pm featuring Dave. The results were viewed by millions across the country on Friday 4 February, with many more watching on YouTube after that, showing DFB's willingness to contribute to community-led events that help brighten these dark days. As it turned out, after the pre-recordings, B Watch were on duty that night, meaning Nicola, Alex and Stephen were all in work watching it when it came on TV. The banter can only be imagined.
COMMUNITY SPIRIT
"As firefighters we are very community spirited and we like to get involved with what is going on in the community," Ray says of the importance of taking part in such efforts. "We are seen as jovial at times, and we are always ready for a challenge, so we are always happy to take part in this kind of thing when we can. We are part of the community. Unfortunately, when some people see us, it is usually because it is one of the worst occasions in their life, whether it is a fire or an accident, so we want to show that there is another side to us. We want to give back to the community when we can.
"The dance has gone viral now, and everyone is trying their own version, but for us, it was a way of easing pressure for frontline workers – and that doesn't just mean blue light workers – it includes all workers going out to work every day to provide services – it is a pressure relief, and gets the whole country involved. It meant a change in conversation, however briefly, from COVID to something more positive and uplifting.
"Our members didn't all perfect the moves or light up the stage," Ray says, "but the thing about it is that it wasn't about getting the moves down perfect, it was about taking part, enjoying a bit of fun. Something like this was needed to give a positive side to things and to boost morale."