The crew of A Watch Dolphin's Barn grab some time between call outs to talk to Adam Hyland about life at their station.
To say that the crew of A Watch in Dolphin's Barn were busy when I went to meet them would be an understatement, and it was only by good fortune that I arrived just as D/O John Rogers returned from a call out.
"This is a very busy station," he emphasises, "so there isn't much time to dwell on anything because we are all in and out all the time. But the entire crew are more than happy to be so busy."
It's easy to believe, with the alarm going off frequently during my visit, but D/O Rogers finds some time to talk about life at one of the oldest fire stations in the city.
He has been D/O here since 2015, having come from Donnybrook where he was stationed since 2009.
The station has two fire engines, an emergency tender, an ambulance and a D/O's vehicle with command unit, with 15 crew plus himself, an S/O and two Sub Officers, working with 13 members every day and 12 at night.
"We have a good mix here," he tells me. "A lot of very good senior personnel here, and they give the younger ones the heads up on how things work best. If the younger crew members need help with anything, they go to the senior members, and there is always a very helpful atmosphere."
CHALLENGES
Working well together is necessary, as the crew covers a very large area stretching to Lucan, Rathcoole and towards Blessington.
"There are a lot of industrial sites around here, as well as three major hospitals nearby. These bring their own challenges. The industrial sites could have chemicals or can present HazMat scenarios. The readiness always has to be there. We can't always know what is in some buildings until we get there. We do have pre-fire planning, but going to those sites can present unforeseen challenges that we need to be ready for.
"With the emergency tender here, we have to serve the entire southside of the city," D/O Rogers adds. "We can be sent anywhere, and they can be very busy, especially around the M50 motorway and South Circular Road.
"Having said that, our location is good for access, and the canal nearby means we can practice swift water rescue drills, and have an SRT Instructor in Don Kinsella."
FITNESS
Another alarm goes off, with a crew dispatched, and S/O Monaghan runs past me in the yard saying "I told you we were busy", before D/O Rogers takes me to the newly-renovated gym. "It is used quite a lot. There's a lot of interest in fitness among the crew," he says.
When the weather is good, the crew can also avail of the handball alley in the yard. "There's always a slagging match, but it's good natured and always a bit of fun," he says.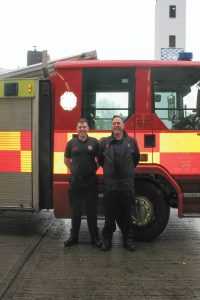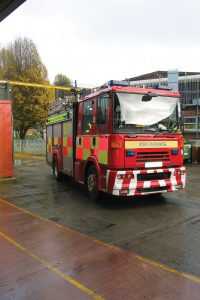 UNIQUE ASPECTS
D/O Rogers and S/O Monaghan both point out that Dolphin's Barn is the only station in Dublin without a fireman's pole, because they are a single-storey building. Later in the mess, a few crew members get to talking about this, with thoughts turning towards what was here before. There are a few theories, before conversation returns to banter.
As we walk through the station, D/O Rogers shows me the memorabilia cabinet full of articles and artefacts, with a screen showing a slideshow of call outs and past members, before we come to the garden. Built in memory of FF Brian Dempsey, who passed away in 2003, a memorial axe was more recently placed there to commemorate Ian "Frodo" McCormack from B Watch.
Another wall is adorned with pictures of former colleagues, including D/O Terry Potts, whose son Lorcan is on A Watch. Speaking about carrying on family connections, D/O Rogers tells me that his own son has been in the DFB since 2016. Many of the crew have family members in the Brigade.
ENJOYING LIFE
"I love coming to work," D/O Rogers tells, "and I love being kept busy. We also have a very good crew. Whether they are going to a fire or an RTC, they work hard. You need that. They are all very good firefighters, and very good people."
The mix of seniority and youth is evident when I meet the crew in the mess, as is the high level of joviality. Though many of them have served for more than 20 years, it is noticeable that new recruit Liam Redmond, who started two months ago as one of the nine members of Class 1/2019 who went operational after pass out, fits in as one of the team, giving as good as he gets. Jokes fly about his father being Driving Instructor Mick Redmond, which is ramped up when Mick shows up with the new command unit vehicle.
As crews return from call outs, other members of A Watch file in, including Conor Mackey, Dermot Murray, Sub Officer Nicky Farrell, Kevin Maher, Paul Donnelly, Don Kinsella, Padraig McConnell, Lorcan Potts, Mick O'Connor, Chris O'Reilly, Anthony Duffy and Mick Redmond, each with a joke to tell about their colleagues.
Over a quick tea break, they continue to swap quickfire jokes about each other – being so busy means it has to be quickfire – because there isn't much time, as another alarm goes off and the crew get up to leave once more.
More than happy to be so busy.