International Profile
Matt Shimkus of the Southampton Fire Department talks to Adam Hyland about life as a volunteer firefighter in this beautiful part of Long Island
Last March, firefighters from the village of Southampton on New York's Long Island journeyed to Ireland, to participate in the St Patrick's Day Parade alongside the Dublin Fire Brigade.
One volunteer firefighter was Matt Shimkus. "Last year was awesome," he says. "It's a beautiful country, the hospitality was amazing, the welcome we got from the Dublin Fire Brigade was great. Everybody we met and talked to was interested in knowing where we were from and what we do."
Southampton FD's volunteer members give their spare time, ensuring this affluent area is covered in case of fires and emergency situations.
Established in 1881, the department has four stations, 145 volunteers, three chiefs, 15 officers, and five companies — Agawam Engine, Agawam Hose, Southampton Hose, Fire Police and Hook & Ladder – and covers the village of Southampton and outlying districts. A Rescue Squad, Water Rescue squad and Rapid Intervention team are specialties within the department. Owned and funded by the village of Southampton, they respond to 1,100 calls per year on average.
"We live in a great spot, and we work together well as a team to do what we do for the people we serve."
Being a member
When not firefighting, Matt is a teacher, but as he says, "we have a wide gamut of volunteers". This includes police officers, plumbers, business owners, contractors, landscapers and more. They sacrifice time, responding to emergency calls day and night.
"Everybody has their own commitments and has different amounts of time to give, and others are more able to undertake ongoing training to develop different skills," Matt says.
A volunteer department where everybody has day jobs means response protocol is different than the DFB.
"Every member has a pager, and when a call comes in through the normal 911 dispatch, whoever is able to go responds," Matt says. "We have several members who have a lot of flexibility and are able to respond from their jobs.
"The response protocol is usually that we head to the station and respond from there, but we also all carry our equipment with us, so if we can't make it to the station on time, or if we are in the area, we can also make our way to the scene. But the main aim is to get the truck out of the house and respond as a team."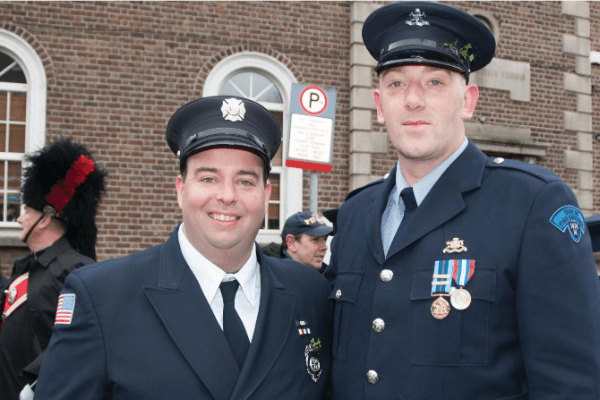 Challenges
The area covered by the department includes commercial and residential areas, with many large, valuable estates , which Matt says "can present challenges in themselves".
The summer months bring great challenges due to location of Southampton and population growth.
"The response time for leaving work, getting to the fire house, getting the truck out and responding to the fire when the population has suddenly multiplied, can certainly be more challenging than at other times of the year.
"Because of our location, we see more emergency calls related to the water in the summer, as we cover Shinnecock Bay, and respond to emergencies on the beaches, but then the warmer weather can also result in brush fires, so we cover those events too.
"As a result, no two days are ever the same, but we do a lot of training and drills so that we are ready for whatever we encounter, it's just a matter of being prepared for any eventuality."
Successful response isn't possible without cooperation with other area departments.
"Most of the time when we respond to a call, we will call in a neighbouring department to assist," Matt says. "They may also go to our fire house while we are out at a fire, so that they can respond if there is another call out. There is a lot of teamwork and collaboration between us. We do the same for them, so we call them, they call us, and we all work well together."
"We are never satisfied with doing a good job, we are constantly asking how we can do it better, how we can do the best job possible for our community."
Community
Southampton Fire Department's Juniors program is notable. Local youths get involved, helping foster the spirit of volunteering. In 2003, Matt was Captain for the first year before Juniors took on running themselves.
"In the Junior program, local children aged 12 to 18 can participate and take part in firefighting and emergency roles through drills and training," Matt says. "They are structured just like one of our companies – they have their officers, they run their own meetings, and they have their drills similar to ours, using the same equipment. It's obviously on a smaller scale, but they are still a very useful part of the community, and really learn what is needed for firefighting. Then hopefully when they turn 18, they might consider joining our department. There are about eight members of our department now who were Juniors."
Community makes the Southampton FD effective, and why many locals volunteer their time to maintain village safety.
"It sounds cliched but we truly are family here," Matt says.
"Who you are, where you come from, what you do, doesn't really matter, we know we can't do our job without the guys standing beside us."
Given they were thrilled to partake in the St Patrick's Day Parade last year, it's no surprise there's half a dozen Irishmen in the department, with both year-round and seasonal availability. They will be accepting the DFB's invitation to return this year.
"We will be coming back for St Patrick's Day again, with 15 to 20 volunteers coming over to be part of the parade," Matt says. "We are looking forward to it. Dublin is a great city, everybody is so kind, and I am sure it will be awesome again."
That invitation, Matt says, will soon work both ways. "We have extended an invitation to DFB to come out to Southampton for our 4 July celebrations. I'm working closely with Dan Fynes to make that happen, and all of us at Southampton FD are working on the plans to welcome them over."
It may be busy, but the Hamptons on the Fourth of July will be an experience.