CFO Dennis Keeley talks to Adam Hyland about the changes faced by the DFB and the great work of all its personnel.
"Reflecting on my experiences over the last 33 years as a proud member of the Dublin Fire Brigade, there have been a lot of changes," new Chief Fire Officer Dennis Keeley tells me. "But looking forward, I expect the pace of change will likely accelerate in the next decade, we'll see a developing City and County, new technology and inventions bringing even greater opportunities and changes. I see one of my roles as providing a base for a very agile brigade that can adapt to change quickly, that provides a safer environment for firefighters and the public, and a service that takes advantage of technology, and continues to develop the skillsets of its personnel."
Providing that base for change is just one of the roles CFO Keeley will focus on as he officially becomes the head of the Dublin Fire Brigade, having acted as CFO since the retirement of Pat Fleming in July of last year.
"It's a very challenging role," he tells me. "The DFB is an organisation steeped in history and with its own distinctive culture. I am honoured to take on the position of CFO, building on the work of previous Chiefs and previous senior management who have steered the DFB over generations. I believe the decisions made over the years have held the DFB in very good stead – both strategically and operationally. I would also like to take the opportunity to acknowledge the great work of the previous CFO Pat Fleming and wish him and his wife Lorna every happiness in his retirement."
CAREER
CFO Keeley joined the fire service in 1986 and was first stationed at HQ before transferring to a number of different stations on both the north and south sides of the city. After a number of years attached to B Watch Donnybrook, he was promoted in 2001, which saw him on the move again, operating within the ERCC and HQ as a Sub Officer and later as Station Officer before being promoted in 2009 as a District Officer at Phibsboro Station. In 2013, Dennis returned to HQ following promotion to Assistant Chief Fire Officer.
During this time, he developed a valuable expertise in emergency management, and spent a number of years seconded to what was then the Department of Environment, working on the rollout of the Framework for Emergency Management. His work in this area also took on an international context as he was involved in the development of the European Civil Protection model, and had the opportunity to train in UN Disaster Assessment Coordination. He also acquired an MSc in Emergency Management in DCU and a Degree in Business with IT Carlow.
"During this secondment I also had the opportunity to attend training of both the EU and UN roles," he tells me. "I also had the opportunity to respond to a number of international emergency missions – for example in 2010, flooding in Pakistan, and then in the same year at an environmental mission in Ukraine."
Though time limitations have restricted CFO Keeley's participation with the EU and UN, it has led to his involvement in and participation with a number of European emergency response agencies, working in partnership with them to provide operational management training under the banner of civil protection. He was instrumental in bringing this Operational Management course to the DFB Training Centre.
"That course brings an international profile to our training centre, and we hope to continue that, further raising its status," he says. "The course is high-profile, a flagship course under civil protection, and it makes it possible for people – DFB personnel and others – to be involved and develop their own expertise around this area."
CFO Keeley is keen for DFB members to consider the course, in order to further improve their skillsets. "It prepares our Firefighters and Officers not only for international missions but in many other aspects of crisis management. If Ireland was ever required to seek International assistance, these people would become liaison officers with civil protection."
DEVELOPMENT
That view towards improving skillsets and ability is at the core of what CFO Keeley sees as the development of the Dublin Fire Brigade, and something which requires cooperation and partnership across the board.
"We are fortunate to have a very bright, well-educated and motivated workforce. It is important that all our personnel feel a part of shaping our future, and I would like to develop that so all personnel feel they can have a bigger role to play, and a bigger say," he tells me, and emphasises the need to adapt to and utilise new technologies.
"We are at a crossroads in terms of the technological developments that are at a very critical point," CFO Keeley says. "We will introduce the new National Computer Aided Dispatch (CAD) system along with the National digital (TETRA) radio system that will come online in the very near future. A lot of our current infrastructure is nearing end of life, the current processes and technology is restricted in development, but we are at a very good point in the development of the DFB whereby automation software and hardware are developing. We also have our e-learning package currently being rolled out, and we see that as a huge advantage for everybody, enabling us to efficiently capture the training records and better manage and monitor the competencies of our crews.
"A lot of technological enhancements have been converged, which I believe will see the DFB advance technology-wise, and I would like to be at the forefront of that. Fundamentally, what I hope it brings is an ability to do things more cleverly, to have more transparency – for everybody. The challenge is that we avoid using technology for technology's sake, ensuring that it has value, a purpose, and use.
"That ranges from both back-office systems – dispatch systems, radio systems, etc – to the equipment on the ground. We are continuously looking at our fleet of vehicles, the technology we need for operations. There are huge advances in this area and it is something I would like to harness. It is all with the primary purpose of making the role of a firefighter safer, in every aspect. My role is to steer that, oversee various functions our senior management are involved in, trying to assure that we are all going in the same direction."
When asked how he sees the DFB changing over the next ten years, CFO Keeley also mentions infrastructural and logistical changes.
"Our vehicles and stations are a key focus for me in terms of modernisation, and we are definitely looking at improvements," he tells me. "Some of our stations need modernising. In the very near future we need a new station in North Strand, with architects looking into the construction of a new station, and we are also looking at the possibility of rebuilding Dolphin's Barn on their existing site.
"We are also looking at our garage workshop and stores area, with the likelihood of moving from that area to an alternative site, either in Tallaght or North Strand, so we have architects looking into this too. These are all big projects.
"We also took delivery of three new tenders in April, and we are monitoring the requirement for additions or replacements to the fleet, but parallel with that, we have a comprehensive updating process in place. We have a program to identify vehicles suitable for refurbishment, and we invest in these with our program for upgrading existing vehicles. We are also getting three new EMS vehicles this year. We have a very large fleet and our garage, workshop and stores staff work very hard in maintaining those vehicles, so it is a constant challenge."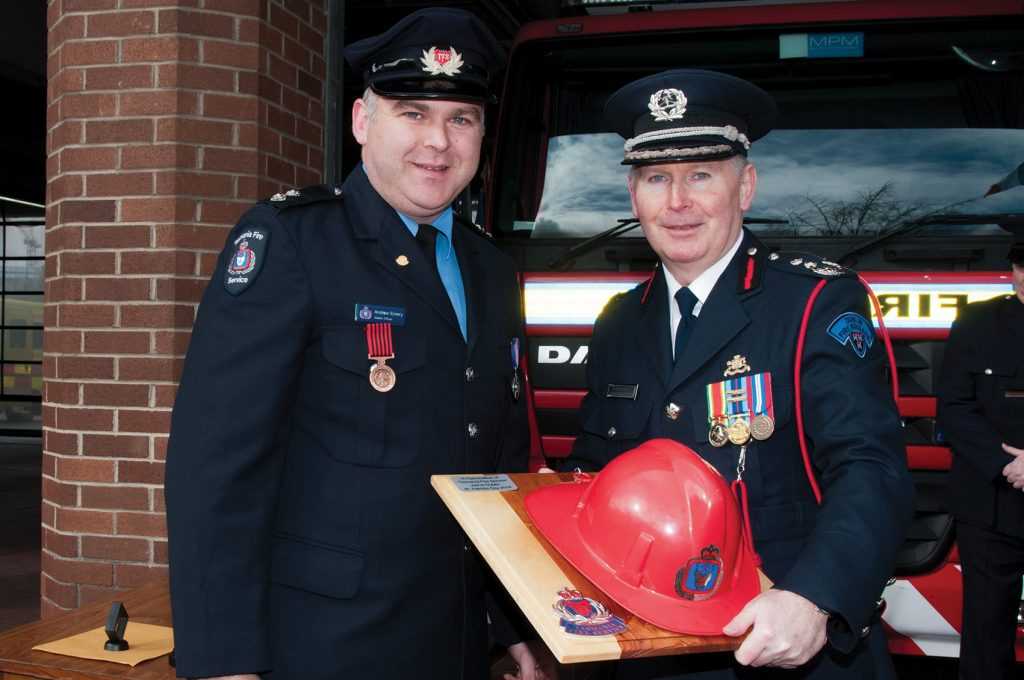 GROWING WITH THE CITY
The rapid growth of Dublin city presents a significant challenge, CFO Keeley tells me, but he is confident the DFB can not only continue to provide the high-quality service needed, but play an integral role in the city's development.
"The city's development is to be welcomed and we must consider what challenge this may bring for us as a Brigade. How we provide that service to the city and county, how we maintain our standards for response, how we deliver all of that with efficiency as a modern, efficient and safe brigade – those are the real challenges.
"It's a city that is growing out as well as upwards, and the vision I have is to take a holistic view of the city and county of Dublin, and the developments taking place. We recognise that Dublin has a range of infrastructural projects unfolding such as the children's hospital and the Metro – and we will see the DFB at the forefront of discussions on that."
He continues: "When you encompass that with the need for fleet maintenance, building stock, and the likelihood of additional stations into the future – maximising the response model in terms of location – those are big decisions, and are built upon a very solid base of current station locations that were decided on many years ago.
"There is a lot of work going on in terms of future-proofing the brigade to meet the demands of a city that is growing, and the most likely outcome is that there will be a need for more stations into the future. How that will be delivered and what the actual model will look like is still under discussion, but I would like to think that the evolution of that will be done in partnership with the staff groups, trade unions and working groups.
"My mantra would be partnership," he adds, "in order to successfully deliver a modern and efficient fire service. That evolution should happen with and fully involve all staff, the people at the coalface, and that will be a big part of how I would like to move forward, maintaining and developing relationships with the trade unions and staff."
He adds: "I also want to review diversity and inclusion issues across the brigade with a specific focus on gender equality. I believe we need to acknowledge, embrace and reflect the diversity of a modern society in Dublin and Ireland."
With the city growing upwards, as CFO Keeley mentions, comes further challenges presented by the growing number of high-rise buildings that need to be kept safe. The Grenfell disaster in London is still in peoples' minds.
"Following the Grenfell tragedy, it is likely that there will be changes and revisions of fire safety in terms of both legislation and operations," he tells me. "We are directly engaged with our colleagues in the Fire service, particularly Brigades in the UK, and have held workshops with a number of their brigades looking at the challenges of high-rise and the lessons learned in procedures and tactics.
"We also have several working groups following on from the Metro fire in Ballymun looking at the lessons learned, and these groups are working hard to ensure that all elements are developed to complement each other. In addition, we are developing proposals for training for high-rise.
"There are also developments in operational intelligence, we are engaged in pre-fire planning and working in partnership with staff to develop our operational intelligence unit, which will with an improved structure capture the risk profiles of station areas to help identify and manage the risks."
Fire safety in general is also something CFO Keeley must continue to promote through his position.
"One of my roles as I see it is to constantly use my position to drive home the fire safety message at every opportunity. We have a very well received social media presence that strikes a good balance between the delivery of the fire safety message and humour, with a visual element that attracts people.
"We are very conscious of the brand and the esteem that DFB maintains with the citizens of Dublin, but we have to protect that and not take it for granted. Fundamentally, our message is a very serious one, to do with fire safety. The objective must be to try to reach all members of the community with our fire safety message, which is challenging, but through our social media, our community fire safety and fire prevention work, that is a big focus."
CFO Keeley returns to the subject of change, the challenges this will bring, and how the DFB is working to improve the lives of its members.
"There has been an evolution in the perception and delivery of the traditional fire service that just deals with fires," he says. "We have moved on a lot from that. We are still a fire and rescue service but also an EMS service, and within that title we provide a range of roles that a modern society requires. Some DFB functions are statutory requirements, others are statutorily-enabled, a number are provided in accordance with national policy or by agreement/arrangement with those who hold relevant statutory responsibilities. For example, we are involved in high-line rescue, swift water rescue and off- shore response, we are involved in the aftermath of rail accidents and Road traffic collisions.
"That too will have to evolve in the next ten years. How we fight fires, what technology will bring us in terms of our equipment, will require adaption from everybody. The Metro underground project, as an example, will present a new challenge, but as a brigade, we faced a new challenge with the Port Tunnel, and we developed procedures, trained people, and put in place a response model.
"As a modern, developing capital city, these challenges will continue, and we will have to evolve in terms of our tactics, response models, equipment, how we do things.
"Certainly, when I look back over my 33 years of service, it is a very different brigade now than it was back then. It is very difficult to look into the future and know what to expect, but I see technology and other advancements such as our drones and the work we are doing in research and development, in clothing technology, our understanding of the continuous evolution of developments in health and safety of our personnel as very important."
Given his position regarding emergency management, CFO Keeley is also keen to point out that the DFB is also playing a very active part in crisis management and emergency management. "That is another skillset to master, and we are looking at supporting the city in terms of emergency shelter, evacuation centres, with requirements in place for on-site emergency coordination centres. We have people trained for this, so overall, the range of services we provide now is more diverse than it was, and having the agility we have allows us to provide all of these services in an efficient way."
CFO Keeley adds: "The development of our ambulance service in terms of skillsets and crew abilities is a magnificent feat, certainly very different to what I experienced as a firefighter/paramedic, and should not be underestimated, but achieving and maintaining these skills poses a specific challenge in terms of training requirements."
On the subject of ambulances, I ask CFO Keeley about the ongoing controversial discussion over the future of the service as part of the DFB.
"What I am clear on is that all parties acknowledge that DFB will continue to provide an Ambulance service," he tells me. "All parties have acknowledged that the service provided by DFB in terms of Ambulance provision, both historically and today, is a valuable service, and it is clear to me that DFB will continue to maintain and manage its Ambulance service. The question of what that service looks like are currently part of ongoing negotiations, which are at a very critical phase. I am very supportive of and recognise the challenges for operational crews and control room staff at the moment, so we are hoping for a resolution and clarity on this issue."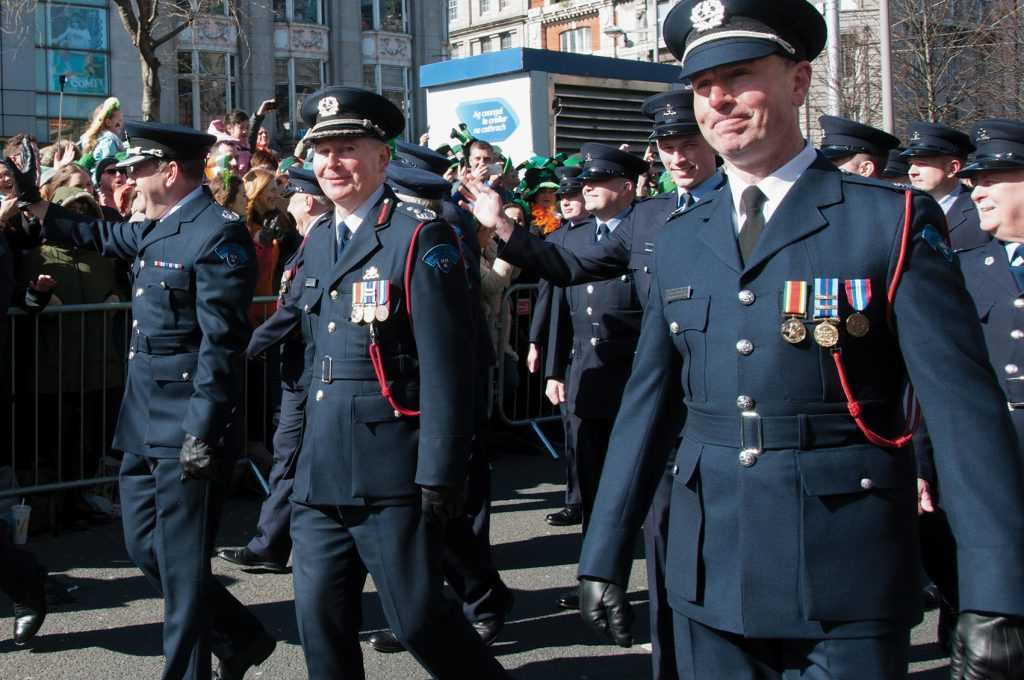 GIVING CREDIT
As the new CFO, Dennis Keeley is also keen to get his message across to all DFB members.
"As a serving firefighter who has gone through the ranks and achieved the very honourable position of CFO, I want to acknowledge the commitment and good work of all of our staff on a daily basis. It isn't always acknowledged, because given the scale of the organisation it isn't always possible to reach out, but it certainly isn't underestimated. Management are very appreciative of the great work being done by all personnel in the brigade, the valuable work of not only our frontline operational staff but also the fire-prevention, administration, training, technical and workshop staff who together keep the DFB functioning every day.
"We are very mindful of the difficult work being done on a daily basis and the impact both physically and mentally on our staff because I know it can be very challenging at times."