It is always the same story when a group of firefighters go on a cycling trip to Italy, so much to see and so little time to do everything, writes Brendan Lodola.
It's been two years now since my last article about our cycling trip to Tuscany, the heart of the Italian countryside. We left this beautiful part of the world in 2016, refreshed from the hours of great banter and camaraderie with a group of great people, and exhilarated from being immersed into a haven of spectacular scenery. We had said goodbye to a favourite place in the world, but we knew we'd be back!
We were only home a couple of weeks when cycling firefighters began texting, saying how much they missed the whole experience already. It was time to start thinking about our next cycling adventure in 2018, The Italian Job Part III.
I can't continue without refreshing you, the people who read the last article, and informing the people who have never been, of the wonders of Tuscany. A region of vineyards, cypresses, olives and ancient stone hamlets. Row upon row of vines stretched out on either side of us, soaking up the warm autumnal sun, beneath a bright blue sky. Terracotta roofed villas and heavenly hilltop sandstone villages, with their narrow streets, rising up from the landscape, enticing us to a challenge of cycling up to them. And believe me, they were a challenge! 
But it's also a cyclist's playground. It's not for nothing that the Giro d'Italia, Italy's annual road cycling race, passes through here. Tuscany is mostly a hilly territory, with plains concentrated mostly along the rivers and the coast. For cycling fans, this means putting yourself to the test on the same hills and slopes many cycling legends trained on, including Bartali, Cipollini and Bettini. Tuscany is in fact a land of cyclists and wherever you choose to pedal, you're likely to cross paths with many other two-wheel aficionados.
And that's why we were going back! After a long year of training, anticipation and organisation, at last the time had arrived. The Italian Job III was about to commence!
We flew out from Dublin on September 24 and over the next five days we would take in the four corners of Tuscany, stepping in and out of the 2019 Giro D'Italia stage 3 route, touching parts of the Strada Bianche professional route.
We arrived safely at Norcenni in the afternoon and got everyone settled into the Villino. The bikes would be delivered that evening by Gippo bikes, where we would size and check them for our first spin early the next day to San Gimignano, before we went down for dinner. It's a pity we didn't have flash lights by the time we were finished! 
After freshening up, it was great to be greeted so warmly by Claudia, Paolo and their staff at Ristorante Vecchio the first evening. There were different feelings up and down the table, with belly laughs and stories from our past trips coming from one end, while at the other, a sense of trepidation with what they were about to put themselves through. They had nothing to worry about, or did they?
Bright and early on a beautiful Tuscan morning, we were awoken by some Pavarotti in the air from our trusted driver Dave Fitzgerald. He was up at the crack of dawn with the van stocked up ready to keep us fed and safe. We headed down for a feed of continental breakfast and some true Italian espresso before we got onto our bikes for the first of our four days of cycling.
Another beautiful adventure was about to begin. This almost magnetic wonderland that keeps us coming back every couple of years looked just as we left it.
San Gimignano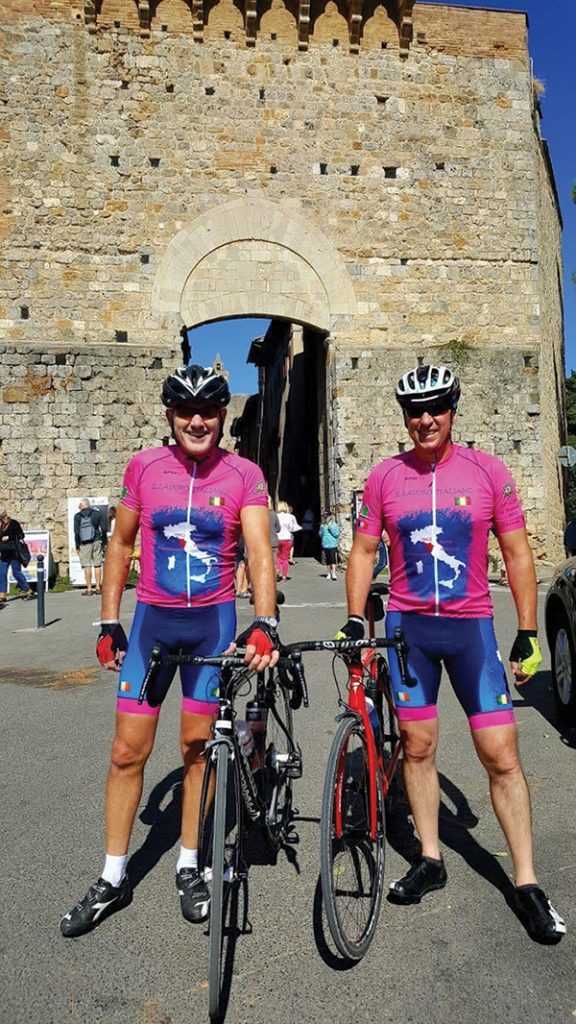 The beauty of this itinerary includes long stretches on country roads in heartwarming sunshine. Pleasant surprises are bound to happen. While thinking you will never make it up these hills, you then feel a huge sense of achievement when you look back at what you have done, or find yourself surrounded by the largest sunflower field you have ever seen… every day brings something different.
In the company of this mixed group of personalities, the Norcenni to San Gimignano cycling tour would prove to be probably the toughest day of our cycling trip in Tuscany. We would certainly feel the pain from this first day, with a distance of 140km round trip and its relentless rolling hills throughout of over 3000m of climbing, while experiencing an exhilarating exploration of the scenery and flavours of the region. We set off and stopped in Montefiorale for a group photo. 
But it wasn't long before we had our first casualty on a steep climb out of Montefiorale to Certona. Everyone regrouped at the top, but we were missing one: Mick Whelan with his big thighs proved too much for his bike, as his chain snapped while climbing a 15% grueller. 
We needed our transport department CEO Charles Fitzer Bronson to come to our rescue, but where was he? Our communications officer Liz Hanley called him on the phone while I headed back to see where Mick was, only to startle him when she suddenly shouted "Car up!" to warn others of a vehicle approaching.
Four of us waited for Dave and the rest headed off to the next town, where they would enjoy a coffee and croissant in a small town called Valgondoli. Dave O'Toole did the business on Mick's bike. The five of us hit speeds of up to 80k pushing hard to catch up with the leaders. We got our bearings, checked the bikes and set off for our halfway stop for lunch in San Gimignano.
We travelled through Vico D'elsa and Certaldo, some of the Giro d'Italia 2019 stage 3 route, which starts in Vinci (birth place of Leonardo Da Vinci) and ends in Orbetello (an ancient Etruscan settlement).
It wouldn't have been right not to travel on some of the fierce gravel roads of the Strada Bianchi that kill your wrists and rattle your legs. This brought back memories of the 2016 trip where we hit the gravel roads for a bit longer than was planned. But I assured everyone this was a short flat couple of kilometres on the white roads which was greeted with a few expressions of "thank  f#@k for that".  
It has to be said that this was a tough leg of our first day, with some good steep climbs through the ancient hilltop villages. But this route was also showing us the landscape of vineyard-covered hills and sunflower fields, with the amazing medieval architecture of the town of San Gimignano waiting for us in the distance.
After strolling through the city streets and enjoying a very well-deserved lunch at Piazza del Duomo, we picked up our bikes and started the "laborious" part of the day. With four big climbs before lunch, we would now encounter the next five hills of the day. One in particular would prove to be the one where we would lose a few people, or they just decided to sit in the sun instead. 
It was a race against time to get home as the sunlight was fading with a gruelling last two climbs on very tired legs up to Ponzano and out of Greve. We made it back just before dusk with 140k and 3000m of climbing.
Of course, if you're going to be riding your bike, you need to fuel your body – and traditional Tuscan fare won't disappoint. Our second four course dinner of carpaccio, zucchini, insalata condita and gelato for dessert would just be the trick for the next day's spin to Arezzo.
Arezzo
Another glorious day greeted us as we set off en route to Arezzo with a few tired and heavy legs feeling the pain already, and we hadn't even left Norcenni yet. But everyone was in great form, and why wouldn't they be? This was going to be a straightforward spin. A bit of a climb from when we got out of Figline Valdarno and flat until Arezzo. But a certain person thought she would tell us we were going the wrong way, and we listened. So, we ended up on the route we were due to go home on. But it got us there in the end. Arezzo is a lovely place – nice lunch in the Piazza sitting in the sun.
After the break, we once again set off on our bikes and cruised through the vineyards of Chianti Classico, stopping for photos several times and once for a rejuvenating snack to give us a bit more energy with 19k to go. A local suggested a different road to a few of the lads and against our better judgement we headed back following signs for Montevarchi and Figline Valdarno, but it transpired that the route was a little longer than planned. Tom Clare said we were now 30k into this 20k route home!
We made it back early enough to go to the pool though, where our transport CEO Fitzer gave a few of us a pool aerobics session. You can imagine the sight, a gang of hairy firefighters with the farmer's suntan/milk bottle bodies splashing about, while the bronzed Italians lay around looking on, saying, "Mama Mia, the Irish are back!"
Siena
Day 3 and everyone was up early again, with breakfast and a few espressos on board. There were a few tired bodies, so the original planned route of 145k with 2500m of climbing to Vinci was changed to bring us to Siena instead.
We set off in the direction of Greve again, up to Ponzano this time with a pic opportunity of the Chianti Classico icon at the top of the hill overlooking the Tuscan countryside of rolling hills and cypress trees.
It was an eventless cycle to Siena, but this allowed us to observe the breathtaking scenery on the way. It sees you cycle on peaceful country lanes, through an endless panorama of vineyards, olive groves and centuries-old stone farmhouses, stopping at sleepy villages to refuel tired bodies.
This time the sun was splendid in the Piazza del Campo (home of The Palio di Siena horse race) compared to the lashing rain we had the last time we were here. There was a bit of a wait for a table for 19 people as you can imagine, while a couple of the highly-strung Italian waitresses had a go at each other over the seating arrangements. We were big business.
The race itself, in which the jockeys ride bareback, circles the Piazza del Campo, on which a thick layer of earth has been laid. The race is run for three laps of the piazza and usually lasts no more than 90 seconds. It is common for a few of the jockeys to be thrown off their horses while making the treacherous turns in the piazza, and indeed, it is not unusual to see riderless horses finishing the race.
On the way back our navigator was bringing us back down some Strada Bianchi again. There were a few comments under breaths, something about never buying a Garmin! So, we just decided to put in the shortest route back to Figline Valdarno. It was the shortest route back alright, but no one told us about the 20k climb and some other unexpected hills that threw a few people into a hypoglycemic slump.
The group split up with a few going a little bit wrong, but Dave Fitz was on the scene. Fitzer is the calming element of the team, offering reassurance every step of the way. He will encourage you to do your best at whatever speed you need and, when you're done and can't do any more, he will just try to feed you. But he will just as easily pack up your bike and converse with you while trailing the group in the support van and making sure everyone is back safely. 
Another successful day, followed by more lovely food washed down with some hearty wine. There had been a lot of talk at the table regarding the last day going up to Fiesole, as this was a short but severe climb into the town.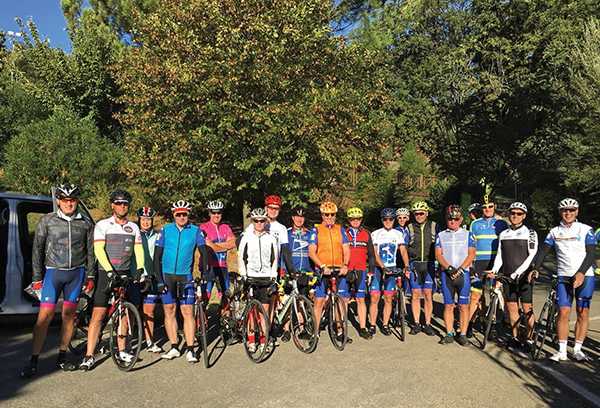 Fiesole
After discussing the route the night before, a decision for the group to split for the last day was made. We all started off together and set off for Fiesole outside Florence and split as agreed in a town called Reggello. This was so everyone could cycle at a comfortable pace. Directions were given, but within 2k the new navigators were coming back towards us the wrong way. "How could that be?" I heard from the following group, with a few giggles thrown in. Dave Doyle got the lead group going again and pushed it hard to the food stop. The pack got a bit panicked and pushed on after him. We agreed to meet Dave Fitz at the end of a descent near Carbonile, where he would set up camp at the bottom of the hill for us to refuel. But that wasn't good enough for Feeder Fitzer. There were a few locals out for a cycle, minding their own business, so Dave invited them in for a few sandwiches. They politely declined, once, but when Feeder Fitzer used his charm, they couldn't resist.
I remembered this route from when we were there in 2014, and it was one that was talked about with great anxiety and anticipation. I think the fear of God was put into poor Miriam! But as it turned out it wasn't as bad as expected, although it was good to see the finish.
When we reached the top, the Italian Fire Brigade were parked, as if it was planned and they were waiting for us, so a photo opportunity presented itself.
We continued on through swathes of woodland, draped over hills overlooking the city of Florence, with the Duomo towering over the city. Not bad, I thought. Not bad at all.
On reaching Fiesole, we refuelled and continued on the road and cycled down the hill only to discover that Liz had the key to the van in her pocket. Dave Doyle volunteered to cycle back up the 5k hill, giving the rest of us a chance to have another rest.
We navigated through Florence – not an easy job. We didn't cycle across the Ponte Vecchio twice this time, but we passed the Ufizzi and the Duomo on bikes, and made it through the city safely. 
Back at the ranch was another pool opportunity. The bikes were due back and Mick used his negotiating skills to avoid a charge for a supposedly damaged one. It was time to ready ourselves for a night on the tiles, but instead of visiting Figline, we stayed on site, where we had the best meal of the week, washed down with some well-deserved wine and beers. Having met the barman earlier in the week, we were served until the early hours and had a ballad session for good measure.
This Italian experience certainly didn't disappoint. The only regret was having to leave this inspiring place. For the soft curves of the roads, the never-ending hills, the gruelling gravel roads that shake your bones. For hilltop medieval villages in the distance, the bicycles that got us there, the wind in your hair, or just on your head! For the food at the stops, the sweat-soaked jerseys that grate your skin. For the bulging eyes on the hills, the sweat that drips, the digging deep, the happy red faces at the top, for the one who tears away, for the one who catches up. For the buzz at the dinner table, for the wine tasting and sight-seeing.
For the laughter, for the sore legs the next morning. For the scream of the brakes on the descent, the rattle of the gears going uphill. For the aroma of the Chianti air, the sound of the crickets at night, the first espresso of the morning. For the climbs – oh the climbs– bloody climbs! – that never end – that we really love. For the bruschetta drizzled with garlic and olive oil, for the cappuccino at Greve. For those who couldn't sleep the night before Fiesole, for those who couldn't sleep at all because of the caffeine intake, for those who had to push uphill, for those who climbed like a butterfly, for those who were out of breath, for those who called for their "mamma". For those who asked on the hills, what the f@#k am I doing here?
For those who pushed it hard, for those who took it easy, for those who took the wrong road, for those who found a friend, for those who couldn't take any more, for those who gave their smiles freely. For those who had their chamois cream at hand, those who whistled their way downhill, those who did it in pain, for the race to the finish line, for a cheeky smile, for a glass of wine. For those who had been waiting a year, those who had been waiting two, for those who have good legs, but especially for those who have a good heart. I hope you enjoyed the Chianti hills of Tuscany.