A team from Dublin Fire Brigade has been working hard on updating and developing the brigade's high rise firefighting plan, coordinated by District Officer John Chubb.
When you think of a city dominated by high rise buildings, Dublin doesn't immediately spring to mind. New York, of course, and Tokyo. London perhaps, and Dubai. However the term high rise buildings, as B watch District Officer John Chubb explains, doesn't solely refer to buildings that tower 50 or 60 stories above ground level, but rather those of five stories and above.
"A more focused way to describe it is a building that the fire service has to depend on the provisions within for fire safety, whether active or passive, such as sprinkler systems, dry riser systems, smoke control and ventilation systems. Any structure that necessitates moving away from our fire appliances, which is our toolbox, and start depending on the builders' and the engineers' vision of fire safety, we would regard as a structure that requires firefighting tactics appropriate to high rise," he says.
Measured approach
Fires in high rise buildings require more complicated operational approaches than most structure fires. Tasks that are normally considered routine for most fire departments, such as locating and attacking the fire, evacuating occupants, and performing ventilation can become very difficult in high rises. As a result, Dublin Fire Brigade's high rise emergency management plan is currently undergoing an extensive update by a team led by D/O Chubb. It's by no means a new concept for the city – a plan was put in place for the towers in Ballymun back in the 1960s – but changes in Dublin's built environment in recent years have necessitated a response.
"In essence, any fire department anywhere in the world is in a constant state of revision – they continually evolve to account for the characteristics of the built environment," says D/O Chubb. "In the last 10 years we have had an explosion of building here – at its peak in 2006 we were building 100,000 properties per year. In addition, government policy is looking towards housing a growing population, starting to lean towards more and more high-density buildings. DFB has been evolving its strategies, taking note of these developments."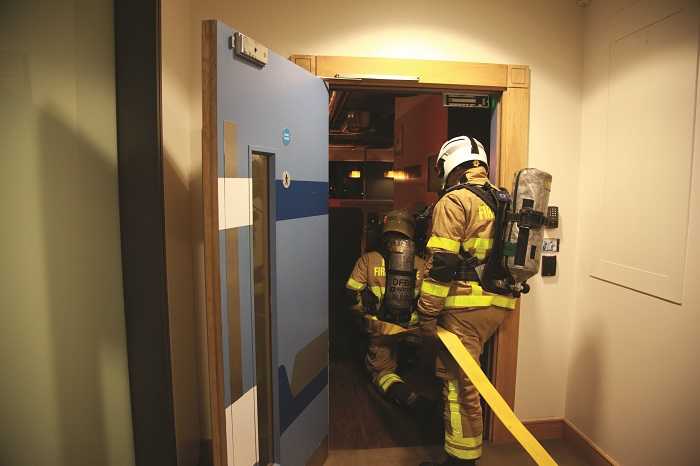 Updating and developing a high rise firefighting plan that takes into consideration the myriad challenges these buildings present is no easy task. Alongside changing scenarios once you travel 10 or 20 floors into the sky, DFB's current fleet of aerial appliances can reach a maximum height of seven stories, which means that interior operations have to be conducted in buildings beyond that level, reducing the tactical options available to incident command. Though vehicles capable of scaling larger heights are available on the market, Dublin's infrastructure has to be taken into account, in particular a warren of narrow streets that wider vehicles simply couldn't pass through. Elevators within these buildings are not always suitable for firefighters – special firefighting lifts are required that can overcome issues associated with smoke and water ingress. Multiple occupancies also pose a significant threat. In a smaller apartment block you might have four or five families, and evacuation can be carried out quickly and efficiently. In a high rise building that could combine offices with residential apartments, that number can quickly rise into the hundreds.
There are other issues too. Reflex time (the time it takes from arrival on scene to getting water on the fire) can be increased greatly – a high rise situation necessitates moving equipment from the fire tender to higher floors, rather than simply running hose from an appliance across the street and into a normal two-storey house. Water pressure is another concern; when you try to move water to elevated levels you're trying to overcome gravity and you lose the pressure required to operate the standard fog nozzle. To counter that they've gone back to the smooth bore nozzles, which require less pressure to get water from A to B.
The impact on personnel cannot be underestimated either. Before they add any equipment, the average firefighter will carry around 10kg of PPE, excluding a BA set. Add a hose, forcible entry equipment and accountability systems used to track personnel inside a fireground and you're pushing 25kg, the limit recommended by the Health and Safety Authority (HSA). The brigade's personnel are undoubtedly a hardy bunch, well trained and well drilled, but hefting 25kg up 20 stories in smoke and heat can get quite tiring very fast.
"All things considered, we're dealing with a very complicated fire, we're dealing with delays in getting our assets and our resources to a point where we can deploy them, and we have issues with command and control, because the command communication chain is extended by the difference in where the commander would have to set up and where the firefighters are going to deploy," D/O Chubb explains. "You've also got an issue with communication because of Faraday shielding in steel structures, which sometimes makes radio communication impossible."
Plans in place
The process of updating DFB's high rise response plan began back in mid-2016 (though incremental modifications have always been put in place), scheduled to run for two years although D/O Chubb believes that it will be ready well in advance of the deadline. The project is multi-tiered and features multiple work streams, incorporating health and safety, fire prevention, EMS, operations and external partners. Insight from those within the brigade has proven vital – fire prevention officers have provided their in-depth knowledge in relation to building regulations, while the team has also utilised external engineering expertise. EMS staff have also provided insight into how EMS operations must be conducted within the high rise structure as opposed to exterior to a building on fire.
The above challenges, and others, are the focus of this plan, and D/O Chubb and his team have looked to their colleagues beyond Ireland's borders in search of best practice and innovation, considering and investigating a number of innovative devices already in use in brigades across the world. Take the smoke curtain, an ingeniously simple device that can be affixed over the doorway to a burning room, preventing smoke from filtering into the rooms or corridors beyond, aiding evacuation procedures and reducing smoke damage. Or the Fognail, which allows responders to fight fire from outside a room by penetrating the walls or doors using the tool and injecting a fine water mist inside.
Once the plan has been completed, the next step will be disseminating its contents to all fire brigade personnel through comprehensive training and continuous professional development programmes. "A challenge that we have when we develop new practices or techniques is that we have to be sure that we disseminate that information in an even-handed way, and that the actual message is standardised. Essentially what we're doing is we're developing a curriculum. We have identified two key areas: the skills people need to have, and the knowledge they need to have," says D/O Chubb.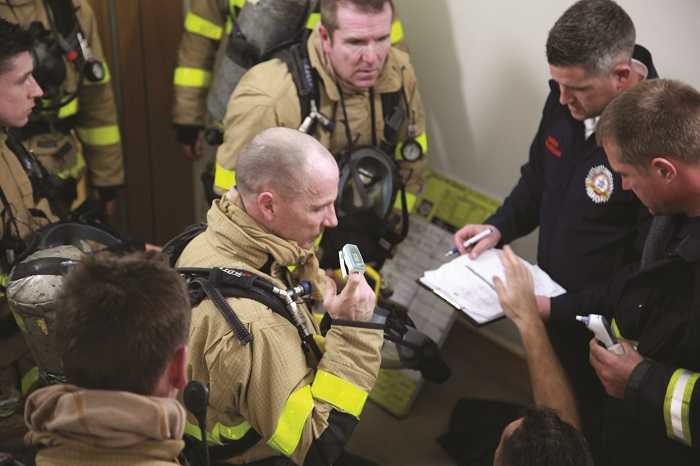 Practical skills include firefighting shaft operations, firefighting tactics, ventilation strategies, working with a building's water supply, search operations, EMS operations, and command and control. The cognitive element is also important, and the curriculum will educate personnel on fire alarm systems, high rise building construction, firefighting lifts, fire behaviour, sprinkler systems and smoke control systems, providing a well-rounded knowledge base on which the brigade can build.
This project is far from being a paper exercise in procedures and policies. D/O Chubb describes B watch HQ as the "fulcrum" of the project; testing the effectiveness of the strategies developed, discovering what does and doesn't work, and pushing themselves to their limits, augmented by crews from Phibsborough, Donnybrook and North Strand. Two full-scale exercises have been carried out in high rise buildings across the city, and many more conducted in HQ, all of which will contribute to future learnings and the final plan.
"The crews are doing much more than is expected of them on a daily basis, and their response has been phenomenal," says D/O Chubb, who stresses that he's merely a facilitator in developing these plans, and that nothing would happen without cooperation at all levels of the brigade. "It's a big project, one that couldn't function if we didn't have support from the top down. We've had to query every single thing we do, and ask hard questions of ourselves. And once you have that type of honesty, and you know where to look for the latest ideas or best practice, you usually end up with positive results," he adds. "A lot of work was done in New York and in the UK. We have an open mind and we're happy to look at what's out there and take the best from everyone. My job, effectively, is to learn from what other people have developed, to stand on the shoulders of their expertise. It really is a team effort."