In the first of a series, we take a look at how the Class 1/2019 recruits are getting on as they reach the halfway point of their training, by Adam Hyland.
Whether it's a recent or a long-forgotten memory, all members of the Dublin Fire Brigade have had to go through recruit training before they become fully-fledged professional firefighters, and Class 1/2019 were being put through their paces throughout the summer.
On June 10, 36 recruits gathered at the OBI Training Centre to start an intensive 15-week course, before they move on to either their paramedic training, or join a crew of one of the stations across Dublin or other regions of the country.
"They are going well so far," Course Director A/D/O Joe Mangan told me when we met at the end of June, when the class had been put through three weeks of basic training and had begun to move on to specialist courses. "They started off as 36 individuals, but they are gelling well as a class, and there seems to be a good camaraderie between them all, both at syndicate and group level."
From the outset, the idea that they needed to work together as a unit was emphasised. "We told them on day one that to get through this you are going to have to be there for each other, it's all about teamwork," A/D/O Mangan says.
The class was divided into three groups of 12, with each group undergoing specialist courses at different times according to a pre-planned schedule. By the end of July, Group 1 had done their practical firefighting and BA courses, Group 2 had done practical and RTC, and had just started their BA course, and Group 3 had completed their practical, pump and EFR, and were about to start their RTC training.
"They are all at different stages, but by the end of the training, each group will have done exactly the same and be trained to the same level," A/D/O Mangan adds.
In order to bring a certain level of experience into the mix, the number of retained firefighters from other regions within the class have been divided as evenly as possible between the groups. The class is further divided into six syndicates of six, again with the aim to share experience amongst each.
"That helps the groups out in terms of the support they can provide to each other," A/D/O Mangan says. "Obviously, the instructor leads the group, but it's good to have that bit of experience in some of the class, because they can share it with others. You can see the leaders coming out in the groups."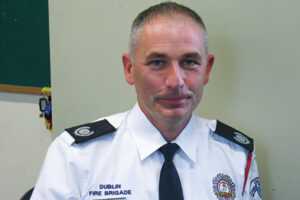 Overseen by Brigade Training Officer Brendan Carroll and Assistant Brigade Training Officer Frank Kiernan, who are ultimately responsible for all training, apart from Course Director Mangan and Assistant Course Director Cormac Cahill, there are six syndicate officers throughout the basic training who also assist on or instruct on those courses. These are S/Off Nicky Farrell, S/Off Jim Doyle, S/Off Paul Daffy, S/Off Niall Grant, S/Off Keith Markey, S/Off Eugene Maher, A/S/Off Kevin Maypother and A/S/Off Paul Green, while a number of specialist instructors are also brought in for each course.
"We are very lucky that we have great instructors, both for basics and specialists, who bring a lot of experience in operations to the OBI, and that experience and expertise as instructors is paramount in getting the recruits across the line," A/D/O Mangan says. "It all filters down. It's important to start right.
"The GO, A/S/Off Kevin Maypother, is key as well," A/D/O Mangan adds. "He is the link in case there are any issues. Touch wood, though, there haven't been any issues in this class. They have gelled very well as a group. It's baby steps at the start, but once you get them going, you gradually increase the pressure and build from there. It's an ongoing process."
TEAMWORK
That idea of working together is essential.
"The ethos of the fire brigade is teamwork," A/D/O Mangan says. "We remind the class from the outset that we are in the business of saving lives and property, and rendering humanitarian services. An individual can't do that, you have to work as a team, now as recruits, and then when they go operational at a station."
Discipline is also key, with the recruits performing marching exercises every morning under the supervision of A/S/Off Green. "Marching instils discipline and they have to work together as a class to make sure it looks right," A/D/O Mangan tells me. "During training they also have inspections to make sure the recruits and their environment are in proper shape.
"The training instils the idea in them that when they do go out to work at a station, if they are told to do something, they do it."
In talking to some of the recruit class, the majority agreed that although all of the courses presented challenges, BA was the toughest for those who had already done it, and was the one most who hadn't were apprehensive about.
"To an extent, BA is the toughest, and you can see in the groups that they are looking at the schedule and seeing when they are doing it," A/D/O Mangan says, but he also stresses the importance of getting through the basic training successfully first. "The recruits do need to get the basics right before they can move on to other skills," he says, "because if they don't master the skills in the basic training, they are going to be behind in the likes of BA. Some of them at the start struggled with fitness, as always happens, but they all got through it and none of them complained. They have all been willing to put the effort in.
"Physically the RTC is a tough course, because you are lifting heavy tools constantly and carrying different parts of cars, vans, etc, so it is full throttle once they get going. They are all tough courses in their own way, but they get through it, and a lot of that is down to the instructors and the way they explain and teach it.
"Yes, the BA course is tough, the RTC course is tough, but some people might struggle in one and excel in another. By the end of September, they will all have made the competencies in each category and will leave here proficient firefighters, which is the goal."
LIFELONG LEARNING
Once they do finish their specialist courses, focus will turn to preparing for pass out in mid-September. That, however, will not be the end of the training required, with learning now being an ongoing process.
"For the majority of them, it's back to the OBI to start their paramedic course, which will finish in the weeks leading up to Christmas," A/D/O Mangan says. "A number of them will go operational in September after pass out, but most will go straight into the paramedic training. So, they still have a long road ahead of them.
"Even when they go operational, they still have to gain experience. The learning never stops. They have to get through their probation period, need to knuckle down when they get assigned to a station. They will have learned a lot from their training, but they will learn tonnes more operationally from the firefighters and officers at their station.
"Every day is a learning day, every day they are progressing, right through their training, and each day they are gaining another element of the skills needed that will turn them into a fully-fledged professional firefighter. Even the firefighters already in the job, with ten, 20 years of experience, are learning. This class will leave here as professional firefighters, but every day will give them a chance to learn skills and knowledge that they can bring forward to the next incident they are called out to."
THE RECRUITS
But what do the recruits think of their training so far, and how did they find starting out on their careers as full-time firefighters? Some of the class volunteered to share their thoughts.
Keith Russell has been a retained firefighter in Navan, Co Meath, for 11 years, following in the footsteps of his father and grandfather before him. He tells me that a career in the DFB was always a major interest for him. "There's a big difference between the retained life and the full-time life," he says, "but there are many more opportunities working in the DFB, for example training as a paramedic, which you wouldn't have in the Meath Fire Service."
I ask him what his first impressions were, when he started his first day, and in the weeks that followed.
"The first couple of days were a bit of an eye-opener," he tells me. "There was a lot of introductions and explaining what we would be doing, but by the Thursday of the first week we were rolling hose, and the next day we were on the monkey puzzle, so the legs were fairly tired after that.
"From then on we went into basic training. The first three weeks were full on for everybody, before we split into groups for the specialist courses."
Keith's group had by the end of July completed the practical firemanship, pump and EFR courses. "I had never done a pump training course before," he says. "I had used them in the old job, but I'd never done the course. I found that really good, really beneficial and very interesting as well. The new recruits probably won't be doing that in the job for a while, but at least we know that, just in case, if we pull up at a scene and the SO lets a roar at you, you can do it.
"We learned a little bit more about the stuff we would have done in basic training and got to hone our skills in the practical course. Then we did EFR. And this week we started RTC training. There's a fair bit of sweating involved in it, but it is really enjoyable."
The BA course is yet to come for Keith. "My group will be the last one to do that," he says, "but we are hearing all of the stories from the other lads, there's a lot of war stories coming back."
For Keith, remaining on top of everything he has learned is one of the challenges.
"The exams are every week, so it's a challenge to make sure you know what you are supposed to know, when you're meant to know it," he says. "The instructors are 100%, but obviously there is a lot of hard work involved, with plenty of aches and pains. My knees were in tatters after the first three weeks, but you just get on with it, take it on the chin and go again."
The camaraderie that A/D/O Mangan says is so important is something Keith feels is very helpful for the entire class. "My Navan accent means I get a lot of banter," he admits, "but there is good craic. As with anywhere, lads can have different strengths and weaknesses, but we are trained to help each other out. If you know something you pass it on, and if someone else knows something they pass it on."
Keith is also very pleased with the training schedule overall. "The training is good because it is planned out very well. You have your day set, you know you will be coming in and doing X, Y and Z, and you know you have to perform. We know what we will be doing in the next few weeks as well, so you can look forward to each part of the training, or if there is something you've done already, you can tick it off the list.
"I'm enjoying the RTC course," he adds. "There's a great bunch of instructors there, very knowledgeable and eager to help us out. I'm looking forward to the BA course too. I know it will be hard, but at the end of the day, that's a major part of the job."
Overall, he feels lucky to have been given the chance to join the DFB. "The opportunities this job gives you, you don't get anything like this anywhere else, and I don't even know half of what is still to come.
"Once you get in, you have to grasp it. I heard it described as if you get in here, it's like winning the lotto. You have to put the work in, obviously, but I plan to be in the DFB for as long as possible."
Ross Bell is also a retained firefighter, from Co Louth, and plans to go full-time in either Dundalk or Drogheda when he completes his training. He too got a very good first impression of the OBI.
"It was brilliant. It's some set-up here, the training facilities are excellent, top-notch, as are all the instructors, who really know their stuff," he tells me.
"The training standards are really high. I've done all of the courses before in order to work with Louth fire service, but there are a lot of differences and this is brilliant because it polishes up what I have done previously, and also helps me to get rid of any bad habits I picked up over the years. We will all be coming out of this at the top of our game."
Ross has so far completed the firemanship, EFR and pump courses, with his syndicate also starting on RTC. "BA, Swift Water and HazMat are still to come, so we will be flying by the end of the course," he says. "There's some exciting stuff ahead, and I hope to hit the ground running after those."
He found that his group's schedule allowed him to gradually settle into the course. "The RTC course we are doing now is very hands-on," he admits, "but relatively speaking, we had the easier stuff first, with the pump and the EFR, giving us a sort of slow pace, while other groups were running around doing the BA stuff. Now, with the RTC, it is heating up, but it's very good."
He too finds that the atmosphere generated in the class is very helpful. "All the lads in the class are brilliant, and the lads you meet here, you will be going for pints with them for the next 30 years… hopefully," he says. "But there is definitely a brotherhood to the DFB, and to the fire service in general. There wouldn't be too many professions who can say that."
"I had been looking forward to this for a few years, and I'm really enjoying it."
TOUGHING IT OUT
Darren Donnelly from Dublin came into training for the DFB after several years in the Civil Defence, then three years in the Navy before transferring to the Army.
"My interest in the job built up after I did a lot of drills in the Civil Defence and Army, and saw what the DFB were doing. I knew that was what I wanted to be doing. There's no job like it," he tells me.
For him, the start of training was also "a bit of an eye opener" he admits. "That first Thursday when we were rolling out the hose, I was thinking, oh my god, I have six months left of this, but you grow into it, and there is a really good environment."
Darren's group has completed the practical and RTC courses so far, and has just started the BA course when we talk. "The RTC course was great, and I really enjoyed it," he says. "The BA course is very tough, but it's also enjoyable. It's good to be doing that first bit of firemanship that you will be putting to use when you get out there into the job.
"The group who did BA before us were telling us all the horror stories, but you just have to let that go over your head and get on with it. When you do it, there's a great sense of achievement.
"After this we have the pump course, HazMat and Swift Water. Hopefully it winds down after that. Then we can start getting ready for the passing out parade."
He also praises the positive atmosphere. "All 36 of us get on really well. That helps us get through it, which is important, because, for example with the BA, you have to be comfortable with the people you are working with, and they have to be at ease knowing that you are beside them."
Domhnall Mac Donnacha has been a retained firefighter in Carraroe in Connemara for three years, and will be joining the full-time service in Galway City when he completes training at the OBI.
Because he had already done some of the courses to work in Carraroe, he feels that he was perhaps a little more relaxed about what awaited him, but was immediately impressed by what was on offer.
"The first few weeks went very well," he says. "As an organisation, it is very well run. The facilities are great, second to none."
Domhnall's group has by now completed the initial training and RTC, and has started the BA course, both of which have been enjoyable. "It's hard work, especially with the weather we are having," he tells me. "It's our first week doing BA, so we haven't been pushed too much, but you definitely have to be switched on for it. The RTC course was quite arduous too, because you are carrying and using heavy tools, you are in the full PPE the whole time.
"I'm a big fan of the BA, I really enjoy it, but I have to say the RTC course was very well run. There was no lack of cars to cut up. That was very good."
As with the others, he feels that the atmosphere helps make the training go that much easier. "The lads are pulling together very well," he says. "Everyone is paddling the same boat. There's nobody put out."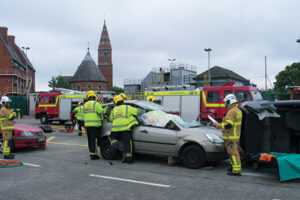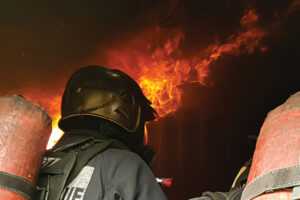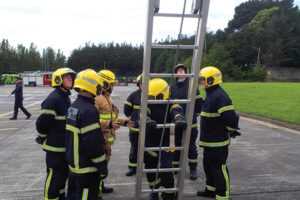 He particularly relishes the different challenges each day brings, even if they are tough. "I wouldn't say anything gets easier or harder, you just have to recalibrate the way you are thinking," he tells me. "Such as going from RTC into BA, you just have to switch off one part of your brain and turn on another, you are using different skills. It's never a dull moment.
"I'm really looking forward to the next two weeks of BA, I really enjoy it. After that there is the Swift Water rescue, which I am looking forward to. We get out of the OBI for a few days, so that will be nice as well."
Michael Kiernan was an emergency services controller for three and a half years in Tara Street before he started training.
"Training is intense," he tells me. "It was hard to adjust for a week or two. I expected it, but you have to adjust. I just finished the BA course, and that took over my life for three weeks. I was exhausted. I think, in general, it is what it is for six months. It puts a strain on things at home, but family are very supportive. There are 36 lads here and we are all in the same boat. We all want to get through this and come out on the other side and do the job we all want to do."
For him, the BA course has been the toughest part of training so far. "We did three weeks of basic training, which was tough enough in its own right – the drills were heavy – but then three weeks in BA… I had been told BA would be hard.
"RTC, which I won't be doing until the end of my training, I have been told is quite hard going too, but BA was also mentally tough. You push yourself that bit harder during the BA because in relation to being a firefighter it is the bread and butter of the job – going under air into burning buildings, running in while other people are running out. It's intense, but it's intense for a reason, and everyone understands that.
"I was delighted to finish it, but there was a great sense of achievement too," he adds. "I've lost a stone and a half in six weeks, which I'm delighted about. I'm getting a lot fitter, so that's a good bonus to the training. One of the hidden benefits."
He is optimistic about the rest of the training, regardless of its difficulty. "I'm sure the rest of the training will go well," he says. "I go to paramedic training straight after this, so that is going to be a massive workload mentally, and that will be another challenge come September, but everything is going well so far. It's tough, but you are not being shown anything that you can't do, the instructors are giving you all the information and tools to go and do it. While it may be tough, it is all achievable.
"As long as the instructors see you giving 100%, they want to help you get things right, and I haven't seen anybody here not giving it their all, not pulling their weight. The instructors see that, and they help everybody get to where they need to be.
"I wouldn't be the most practical bloke, and I might find the paramedic side of things easier because of my background in studying for exams previously, and I might struggle with some of the practical stuff, but it is all very achievable, and it's so far, so good."
As with all of the recruits of Class 1/2019, it's so far, so good.