International station profile
Battalion Leader and Chief of Emergency Medical Services Bill McGrath talks to Adam Hyland about life as a Firefighter/Paramedic in this small city in south Florida
The St Patrick's Day Parade hosted guests from the North Lauderdale Fire Rescue (NLFR) this year. Along with many from the neigboring cities of Plantation and Margate, NLFR enjoyed the hospitalitiy of the Dublin Fire Brigade, which Battalion Leader Bill McGrath describes as "unbelievably great".
North Lauderdale is a small city in south Florida, populated by less than 50,000. Its Fire Rescue Department has 45 full-time personnel working across three stations. The city lies within Broward County, which has 16 fire departments and around 90 fire stations; crews can be called out to any incident within this larger area.
"The way our county works," Bill says, "is that we have a Closest Unit Response, so it doesn't matter which department you work for, if your unit is closest to an incident, you go. We all have the same dispatch too, which makes it easier. It is fairly unique, and while it is not a perfect system, it does allow each city to have its own designated fire department."
Similar to the DFB, personnel are trained as both firefighters and paramedics. With rescue units and ambulances, Broward County also has specialist teams such as HazMat, water rescue, and two helicopters.
This makes for a lot of county call outs (around 250,000 annually), but the majority are EMS calls, rather than fire.
"We tend not to get too many big fires because the threat of hurricanes means we have very stringent building safety regulations. We have them, of course, but not as many as other areas such as New York, Boston or even Fort Lauderdale," Bill says. "There is a relatively large population, but apart from single home fires, there is not a large number of big fires, because of that building construction."
The second reason is the population of the city and county.
"South Florida has a lot of elderly people and retirees, and there is a big focus on their patient care, and the majority of what we do is medical. Our budget is funded quite a bit by EMS," Bill says. "Our part of Florida is very advanced in terms of facilities, with three trauma centres and eight stroke centres."
Diversity and geography
The diversity and surrounding geography provides many challenges.
"We have everything, our city is very diverse. There are a lot of family homes, with a lot of children, so there are a lot of child emergencies, and South Florida has a lot of water – it is surrounded by canals, it's got the ocean, everybody has a pool – so water plays a part in many incidents we attend."
The city has a diverse population, with a large number of people from Jamaica and Haiti.
"We are unique in our county in that there are people coming here from all over the country and beyond, so we have multiple languages," Bill says.
"We have people in the fire department who speak creole, or Spanish, so sometimes there can be communication challenges, but it is important that the personnel in the department reflects the community."
Apart from many EMS calls, a challenge for NLFR is the hot south Florida climate, which Bill says can reach over 110 degrees farenheit.
"Our firefighters can get very hot, very quickly, and overheating is a real danger, even without a fire," he says. "We need a lot of hydration for our own safety."
With the fire and ambulance services, NLFR also plays an import part in their community, including awareness campaigns and programs for schoolchildren, such as their Fire Explorer program.
"We bring schoolchildren aged between 14 and 18 to our stations twice a month, where we do training with them," Bill tells me. "They learn how to be a firefighter, and they are even involved in competitions against other schools. We then look to them first when we are hiring, and train them to be full-time firefighters. They sign up from school, and we provide a career path for them.
Survival training
"We also do a lot of CPR training, with a big focus on survival, and people being able to perform CPR. All of our city employees are trained in CPR," Bill tells me. "We also have a Stop the Bleed campaign, which teaches people how to apply tourniquets and basic first aid," he adds. "Unfortunately, that has become a necessity with the number of violent incidents and tragedies we have seen recently, such as the Parkland shootings (in which 17 students and teachers were victims of a mass shooting in February, 2018), and the Fort Lauderdale airport shootings in 2017 (in which five people were killed), both of which we had to respond to.
"All of our personnel now have to carry bulletproof vests and Kevlar helmets," he tells me. "If we have an active shooting to attend to, we put on our bulletproof clothing and go in with the police. We are not armed, and our job is to evacuate victims, while the police protect us.
"It's definitely something that firefighters did not sign up for, but unfortunately it is part of our job now. We can't wait outside when a shooting happens while the police try to clear it, because unfortunately people will die from their wounds. We need to go in, so we don our protective gear and go in.
"We train with the police in order to do this as well as we can, but unfortunately it has become pretty common, it's just the way it is now. Everybody expects it."
Bill tells me that there are some great sides to the job too. "The most obvious positive is the personnel. We have fantastic firefighters and paramedics, and because we are small, we are very tight-knit, and we do everything together, in and out of work.
"We are a real community," Bill adds, "and the fact that 13 of the 16 departments in our county are in the same union means that we are united as one."
He thinks well of Fire Chief Rodney Turpel, who has been with the service for 30 years.
"He is a huge proponent of ours," Bill says. "A lot of people want to go and work with a bigger department, but they stay because of the personnel and the Fire Chief. Plus, it's also a great place to live and work."
Admiring the DFB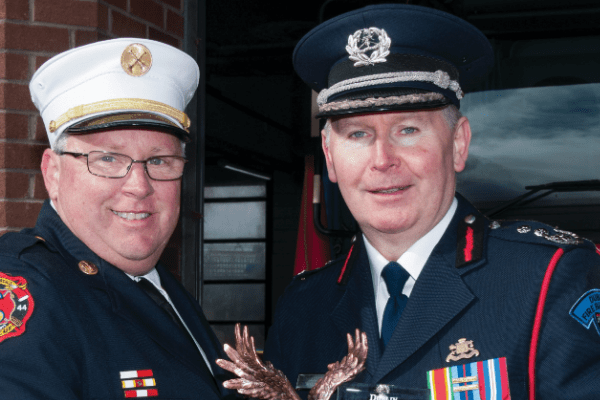 Having visited the OBI and the DFB Museum on his Ireland visit, Bill is keen to talk about his department's museum, which he says was established by Fire Chief Turpel.
"Younger people weren't necessarily realising the sacrifices older firefighters made, so he wanted to make sure that was kept. To treat firefighters with respect."
"Our department only started in 1973, so we are still a pretty young fire department, but the county has been operating for many years and the museum was Chief Turpel's own personal project," Bill says. "He reached out to a lot of older retirees, got hold of a lot of older pictures, and developed the museum. We have a lot of people who will come by and take a look at the books and pictures depicting old personnel, old fires, so it is a good response. He wanted to make sure the younger generation appreciate the history of the fire service, especially our fire service, which seemed to be losing touch a little bit.
For Bill, this is important, and he wants his department to learn from the DFB when it comes to forming generational links and connections with the history of firefighting in Broward County.
"I saw the DFB Museum, and loved it. You have a lot more history than we do, but even talking to DFB personnel, they told us so much from the history of the DFB, and we are trying to do the same thing, to instil that pride, that ownership of the history and the people who came before us.
"You have a lot of personal history too, with generations of the same family being part of the DFB, and that is something we would love to replicate."
"We have a long way to go to match the DFB, but we have the right people."