Acting Assistant Chief Fire Officer Greg O'Dwyer talks to Adam Hyland about preparation for snow, ice and other weather extremes.
In Ireland, we are fortunate that we don't face the type of extreme freezing temperatures common in other countries in winter. However, we are not completely immune to dangerous adverse weather conditions, and in the winter months ice, snow, and flooding can make the job of the DFB even harder.
It is important, therefore, for the DFB to have not just the right equipment, but the right preparation, in place, in order to be able to respond to emergency calls, no matter what challenges the weather brings. That preparation, as Acting Assistant Chief Fire Officer Greg O'Dwyer tells me, is vital.
"One of the challenges we have with adverse weather such as snow, ice or flooding, is not the hazardous road conditions, but actually getting the personnel into their stations so that we can operate as normal.
"We have developed a DFB adverse weather preparedness plan, whereby we have arrangements in place to provide transport for our fire and ambulance crews where needed. We also make plans and provisions for people to be able to stay back in the station overnight if it is unsafe or difficult to get home."
Once in the station, crews also need to adhere to the preparedness plan in order to ensure that each unit and vehicle is capable of safely reaching a call out.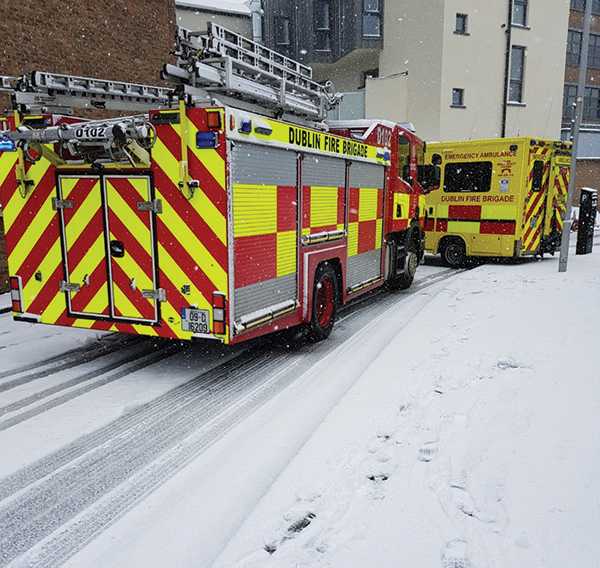 "With the adverse weather plan we also make sure everybody has tasks they have to tick off to keep each station and each vehicle ready for a call out," Greg says. "In snow or ice, for instance, that would include keeping the entrance and exits clear at all times for vehicles, and ensuring the right adverse weather equipment is on each engine or vehicle, and paying close attention to the maintenance of vehicles and equipment."
To prepare properly, each appliance's heating system and valves should be checked and tested to ensure they will function properly in winter, and further checks should be done regularly to ensure extreme cold has not adversely affected them. The vehicles themselves see adaptations that make it easier to manage adverse weather. In order to handle snow and ice, for example, the right weather tyres are put on vehicles, snow chains go on to appliances, ambulances are fitted with snow socks, and snow shoes go out to all stations.
"Our engines are heavy enough to get a good grip," Greg tells me, "but we also have 4-wheel drive where possible, plus we have snow chains, so we have good traction. As a result, it is rare for an engine to get stuck. There can be a few instances where the ambulances, despite the snow socks, can get stuck, but not that often." Ambulance personnel will be given extra overgarments during adverse weather, as well as extra grips or cleats to go over their shoes.
Though the DFB vehicles are well prepared, as Greg says, the introduction of additional 4×4 transport that came on board in September will no doubt prove invaluable, should we see severe, snow or flooding.
"The new 4×4 vehicles are stationed at Tara Street, the OBI and the workshop on Stanley Street, and will be ready to be called into operation as required," Greg says. "If we do have an adverse weather forecast this winter, we can prepare by getting those vehicles and any extra equipment needed in and centrally locate it before sending it out to areas where it is needed most.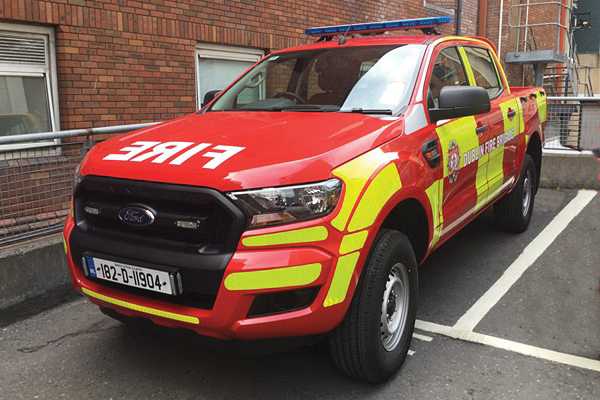 "Those new 4x4s will of course not only be useful in snow and ice, but in flooding, because they can get through deeper water, as they are fitted with snorkels," Greg adds.
Having the right equipment, preparation and support vehicles in place is essential as adverse weather arrives, because inevitably there will be an increase in calls, due not only to collisions on the roads, but because the DFB become the only point of contact in an emergency situation.
"Once bad snow comes," Greg tells me, "there will always be an increase in calls as people dial 999 as soon as anything goes wrong or fails, because nobody else is able to answer or come to their aid. Obviously with the ambulances there are a lot of extra calls as people suffer slips and falls, but other crews see a lot of call outs to people trapped or snowed in especially the elderly or vulnerable, or simply because they can't get in touch with other services."
Of course, in extreme snow and ice it can be more difficult to get to a call out, but because it is so important that the DFB does get there, it is simply necessary to exercise extra caution to arrive on the scene safely. If you don't arrive, you can't help anybody.
That caution – slowing down, anticipating increased stopping distances and unexpected actions by other road users – is something all DFB crews can ensure, but there are other factors that can't be helped. One such factor is other road users who may not have the necessary equipment to deal with hazardous conditions.
"The problem is that while your vehicle may be able to progress, those around you can't, so you can get stuck behind a long line of traffic," Greg tells me. "With heavy ice, you often see vehicles on slipways on dual carriageways that have come off the road or jack-knife, and these can cause big tailbacks that block the entire way through, so it can be difficult to progress.
"But as emergency vehicles, we need to get there, and that can sometimes mean having to go slowly and carefully, because it is so important in the end that we do get there."
Cold weather can definitely take a toll on firefighters and equipment, but with proper preparation, maintenance and awareness, the job of the DFB crews can be made a lot less difficult.